If you suspect your property has storm damage, request a free inspection today. Our professional roof inspectors will check for storm damage to your roof, gutters, siding, windows, doors and more. We provide free roof inspections for homes and businesses in all recently damaged communities, including yours. If damage is found, we'll work with your homeowner's insurance company to submit documents for your insurance claim and get roof repairs or roof replacement completed quickly.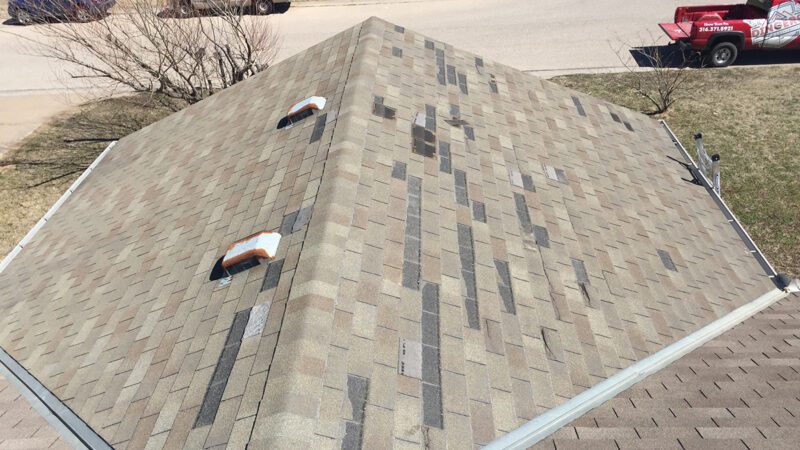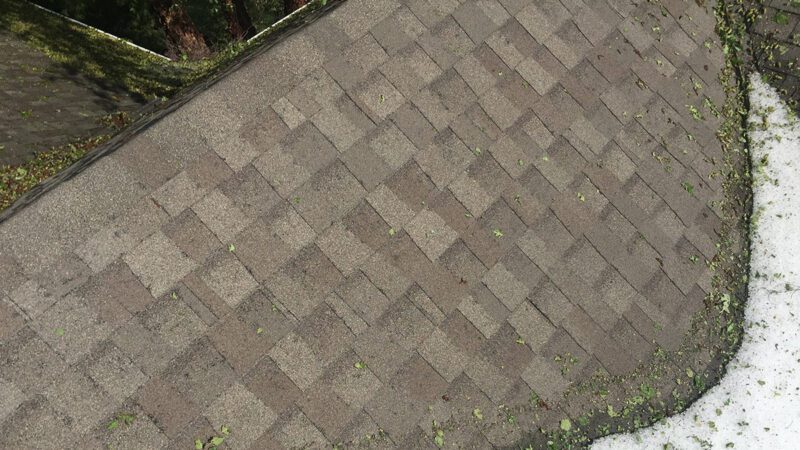 Roof Hail Damage
Hail damage on a roof can be difficult to see from the ground, so it's important to have your roof inspected after a major hailstorm. Hail can cause cracks or splits in your roof's shingles. This can allow water to seep through the rest of the roofing materials. If hailstones are big enough, they can even break the plywood roof base and cause major leaks. Contact us for a free roof inspection to check for signs of hail damage.
Pictured: Hail damaged asphalt shingles with hail still piled up
Wind Damage to Roof
Some signs of roof wind damage are obvious, like missing shingles or a tree limb that was broken by straight line winds and then landed on your roof. In other cases, roof damage from high winds isn't easy to recognize unless you know what to look for. It's important to repair or replace a storm-damaged roof as soon as possible to avoid water damage and further issues, so call us for a free roof inspection.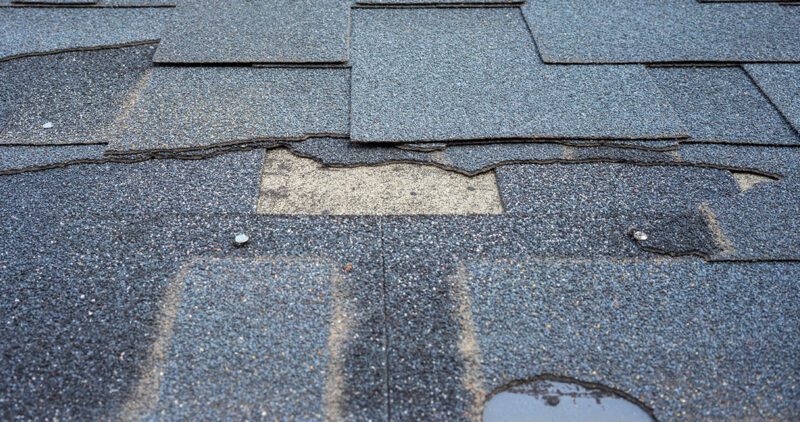 Trusted Wichita Storm Damage Repair Company
Discover why so many home and business owners in Kansas trust Dingers Roofing & Construction for storm damage inspections and repairs.
Expert Roof Inspectors
We're proud to be professional roof inspectors. That means you're in good hands with a trusted expert who has premier comprehensive training in roof inspections. You can count on our roof inspections to be thorough and accurate because we're backed by years of experience.
Storm Damage Experts
Severe weather is known to wreak havoc on roofs. Damage from gusting winds, tree limbs and hail can be difficult to detect. Our certified roof inspectors are trained to identify storm damage to the roof, siding, gutters, windows and doors. Then we'll provide you with a full evaluation.
Trusted Roofing Company
Dingers Roofing & Construction is accredited by the BBB with an A+ rating. We offer a 5 year workmanship warranty on all roof repairs and installations. With more than 20 years of combined roofing experience, you can count on us for quality storm damage repairs.
Does homeowners insurance cover roof storm damage?
Depending on your policy, your homeowners insurance may cover roof damage due to wind, hail and damage from a falling object such as a tree limb. If an object falls on the roof during a storm and causes damage to the interior of your home, that may also be covered. Dingers Roofing & Construction works directly with our customers' insurance companies to provide the documentation needed to get roof storm damage repair or replacement covered by insurance whenever possible.
What kind of damage can storms cause to roofs?
Here in Kansas, our homes and businesses can be exposed to thunderstorms with hail, high winds, heavy rain, as well as winter storms with ice and sometimes heavy snow. Ice and high winds can both rip gutters loose from your home. Strong winds and hail can also damage shingles or even rip them off the roof.
Are there roofing materials that are less likely to have storm damage?
Metal roofs resist storm damage including hail, while class 4 shingles are highly resistant to hail damage. Although less common, slate roofs also resist storm damage.