Dingers Roofing & Construction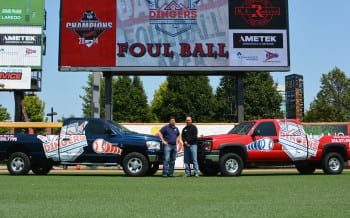 Dingers Roofing & Construction is locally owned and operated roofing company in Wichita, KS. We serve communities including Wichita, Newton, Andover, El Dorado, Derby, Haysville, Kingman and more. With more than 20 years of combined experience in residential and commercial roofing as well as home exteriors, we are a fully licensed general contractor (license# 8979) and are fully insured and registered with the State of Kansas (State of Kansas 15-006342).
Our primary services include residential and commercial roofing, siding, windows, doors and gutters. With each customer, it is our goal to create a long lasting and reputable relationship. We understand that you work hard for your family. Our priority is to complete your project on time, on budget with 100% satisfaction.
Get to know Dingers Roofing & Construction
Dingers Roofing & Construction believes in personalized customer service and building long lasting relationships. Get to know a little more about us.
Craig Dingman, Owner
Craig has been in the construction industry since he was old enough to work.  His experience started as a laborer who helped in the building of 3 commercial stores.  Growing up, Craig gained roofing experience working for his father who owned a roofing company in the Wichita area.
With a 13 year break to work on his baseball career, his work in construction was put on hold.  During Craig's time in baseball, he had the opportunity to play professionally in the major league for teams like the New York Yankees, Detroit Tigers and Colorado Rockies.  Due to an injury which brought his baseball career to a halt, Craig came back home to Kansas.
Since returning from his career as a professional athlete, Craig returned back into construction as a project manager and lead salesmen. In early 2014 Craig had a burning desire start his own roofing and construction company in Wichita Kansas. Partnering up with Luke Robertson, the two have been successful business partners since day one, providing roofing and remodeling services to Wichita and each of the surrounding communities.
Craig is a HAAG certified roof inspector.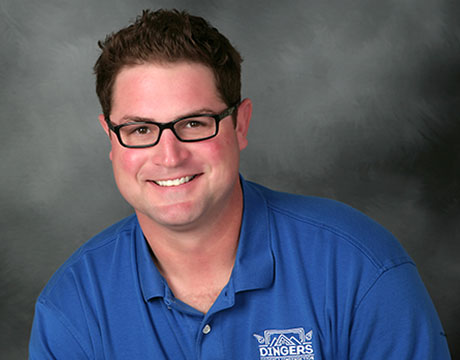 Luke Robertson, Owner
Luke was born and raised in Wichita and has had many opportunities to work in different trades of the construction industry. His experience has come from working with his father and ranges from the planning and construction of major sporting facilities in Wichita and surrounding areas, to installing siding and windows. Prior to being co-owner of Dingers Roofing & Construction, Luke has been a small business owner in the landscaping industry for 10 years.
After playing baseball at Butler County Community College, Luke went on to play in the Big XII for Kansas State University. When his time at Kansas State was done, Luke signed with the Oakland Athletics where he played in the minor leagues for Modesto and Sacramento. Luke's career came to an end in 2004 after a knee injury. With one door closing, another opportunity presented itself as Luke was offered the pitching coach job for the Wichita Wingnuts professional baseball team. Luke has excelled in his tenure as the Wingnuts pitching coach boasting the number one pitching staff 4 of his 8 seasons and winning the championship in 2014.
Luke signed on to be a project manager for a contracting company and gained experience in sales, managing jobs, and insurance claims. In 2014, Luke partnered up with Craig Dingman to start Dingers Roofing & Construction the two have grown the company together to become a reputable general contracting company in the city of Wichita and surrounding communities.
Luke is a HAAG certified roof inspector.

Call 316-202-2066 today or send email to info@dingersroofing.com for immediate response.
We're Social