Dingers Roofing & Construction is a top-rated gutter company in Wichita. We're a locally-owned fully insured, licensed and registered general contractor specializing in home exteriors. Our service area includes communities in south-central Kansas such as Andover, Newton, El Dorado, Haysville, Derby, Kingman and more. You can count on us for expert gutter installation for new construction as well as gutter replacement and repair on existing homes. We offer free estimates, military discounts and financing options.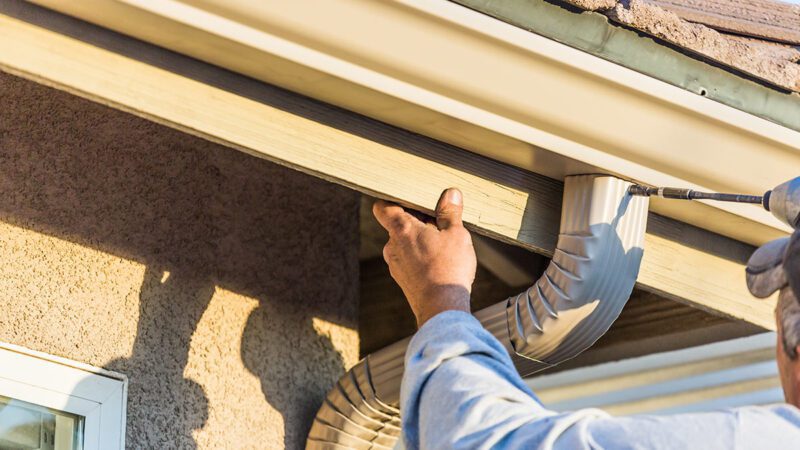 Styles of Gutters We Install
K-Style Gutters
This is the most common type of rain gutters installed on homes today. K-style gutters have a flat back that is attached to the fascia board and their decorative front looks like crown molding. They're capable of carrying a lot of water, which is perfect for Kansas downpours. However, they tend to collect debris in the inside corners, so they need to be cleaned each year.
Half-Round Gutters
As the name implies, half-round gutters are shaped like half of a round tube. This is a traditional style of gutters typically found on historic homes built before 1960. Although they carry water well, they aren't as attractive as K-style gutters, and their shape requires them to be hung with brackets. They can also be susceptible to clogs from leaves and other debris.
Box Style Gutters
Although they're typically not used for residential properties, box style gutters are designed to carry water from a large roof during heavy rainfall. They're typically used on commercial properties and they must be installed at the same time as the roof. That's because they have a high section in the back that gets tucked underneath the roof's shingles.
I loved the work they did for us. Very professional. They followed up afterwards and I appreciated that.
New Gutters
If you're building a new home, a well-planned system of rain gutters and downspouts will protect your investment by directing rainwater away from the foundation. Over time, excess water pooling around the structure can damage both the landscaping and the foundation of your new home. Dingers Roofing & Construction will install a seamless guttering system that provides adequate drainage and enhances your home's curb appeal.
Replacement Gutters
If your existing gutters are damaged, leaking or not moving water away from your home's foundation properly, hire the experts at Dingers Roofing & Construction for a full gutter replacement. Gutters protect your entire home and prevent roof damage, flooded basements, foundation cracks, mold growth and more.
Gutter Repairs
If you have downspouts or sections of gutters that are dented, sagging, cracked or loose, Dingers Roofing & Construction will repair or replace them. We can add brackets or replace the damaged section so your home is protected. And if your roof already has water damage due to the gutters, we can repair those sections too.
Trusted Wichita Gutter Company
Dingers Roofing & Construction is a trusted guttering company in Wichita. We offer gutter replacement & installation as part of our roofing and exterior home services in the Wichita, Kansas area. Contact us today for a custom quote for seamless gutter installation by our experienced team. We offer a variety of colors and design every system to match each home's needs. Call us at 316-202-2066 or request a quote online today.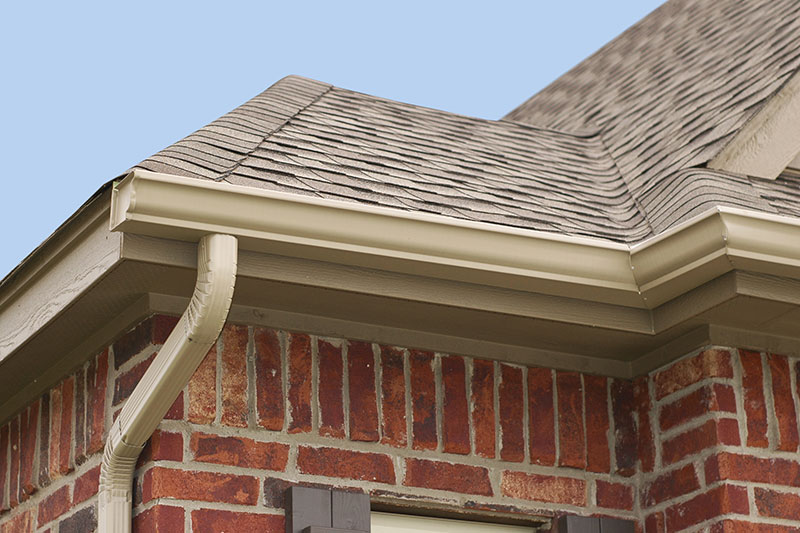 Common Gutter Materials
Vinyl and aluminum are the most common materials for gutters today, although galvanized steel, zinc and copper are also sometimes used. Each material has its pros and cons, but we can help you select the right gutter material for your home.
Vinyl Gutters
The least expensive option, vinyl gutters are lightweight and can be painted to match your home's trim. Vinyl gutters are less durable than other gutter materials, with an average lifespan of 10-20 years. They can become brittle and crack in high heat and hard freezes.
Aluminum Gutters
Aluminum is a popular material for both seamed and seamless gutters because it resists rust and corrosion. Aluminum gutters have a lifespan of up to 25 years and they can be painted to match your home. Thinner, less expensive aluminum is prone to denting and bending.
Zinc Gutters
While more expensive, zinc gutters are incredibly durable and last about 50 years. They have welded joints and they don't rust, fade or warp. They're often used on historic homes and luxury homes. While they're gray at first, zinc gutters develop an attractive patina over time.
Steel Gutters
Galvanized steel and stainless steel gutters are strong, weather-resistant, and can be painted to match your home's exterior. Galvanized steel gutters resist rust but can eventually rust if wet leaves are left to sit in them. Stainless steel gutters don't rust but they're more costly.
Copper Gutters
The most expensive gutter material, copper is valued for its extreme durability in both hot and cold weather. It doesn't warp or rust, and it develops a green patina that never needs painting. This distinctive look is used to complement both high-end homes and historic homes.
How do you know if you need new gutters?
If you have seamed gutters that are coming apart, your gutters frequently clog or leak, or the gutters are pulling away from your home. Some homeowners replace their gutters simply to change the color.
Can I replace my gutters myself?
Seamless gutters must be installed by a professional, and while it is possible for a homeowner to install sectional replacement gutters, we advise against it. Because installing new gutters can be difficult and even dangerous, especially on two-story homes, we recommend professional gutter replacement. A gutter replacement company like Dingers Roofing & Construction will ensure your gutters are hung securely and at the proper angle to direct water away from your home.
How much does it cost to replace gutters?
Gutter replacement costs depend on how many feet of gutters you need as well as the type of gutter you choose. Vinyl gutters are the least expensive gutter material, while aluminum gutters cost slightly more but they're extremely durable. Steel and copper gutters are the most expensive.
How long does it take to install new gutters?
Most residential gutter installations here in the Wichita area can be completed in a day or less. For larger buildings or cases where there are multiple outbuildings on the same property, gutter replacement could take two or three days.