Gutter Installation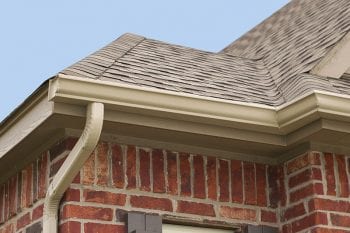 Dingers Roofing & Construction offers gutter installation as part of our exterior home services in the Wichita, Kansas area. Our technicians provide expert service for both new construction and gutter replacement on existing homes.
Expert Gutter Installation
Dingers Roofing & Construction is a trusted guttering company serving Wichita and surrounding communities in south-central Kansas, such as Andover, Newton, El Dorado, Haysville, Derby, Kingman and more. We're locally owned and have an excellent rating with the Better Business Bureau. We're a fully insured, licensed and registered general contractor specializing in home exteriors.
New Gutters
If you're building a new home, a well-planned system of rain gutters and downspouts will protect your investment by directing rainwater away from the foundation. Over time, excess water pooling around the structure can damage both the landscaping and the foundation of your new home. Dingers Roofing & Construction will install a seamless guttering system that provides adequate drainage and enhances your home's curb appeal.
Replacement Gutters
If your old gutters are damaged, leaking or not moving water away from your home's foundation properly, hire the experts at Dingers Roofing & Construction for a full gutter replacement. Gutters protect your entire home and prevent roof damage, flooded basements, foundation cracks, mold growth and more.
Request a Quote
Contact us today for a custom quote for seamless gutter installation by our experienced team. We offer a variety of colors and design every system to match each home's needs. Call us at 316-202-2066 or request a quote online today.