A solid roof for your business is key to keeping your employees, products and valuables dry and clean. Dingers Roofing & Construction provides commercial roofing in Wichita KS and surrounding communities. Our commercial roofing contractors are experts in roof repair, new roof installation, flat roofs and metal roofing. Contact us today for a free commercial roof inspection and immediate evaluation of your roof.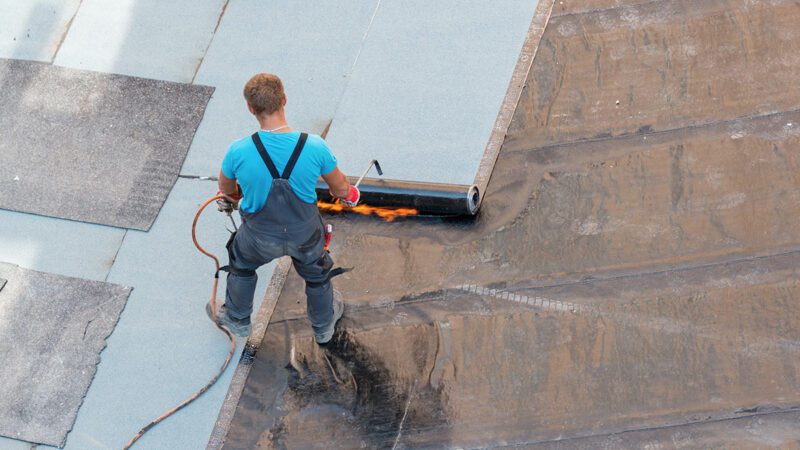 Commercial Roofing Services
Commercial Roof Installation
Protect your facility and its contents with a professionally-installed commercial roof. We're experts at commercial metal roofing installation, TPO, PVC, asphalt shingles, built-up membrane and other roof types.
Commercial Roof Repair
Does your building leak when it rains? Are your employees and your inventory getting wet? When storms or fallen branches damage your roof, we'll inspect it to survey the damage and then provide an estimate for repair.
Commercial Roof Replacement
Repeated roof repairs on an old roof may not keep water out of your building. After an initial roof inspection, we may find it appropriate to replace your roof. Roof upgrades will prevent water from leaking into your building.
Free Roof Inspections
Contact us today to schedule a no-cost roof inspection at your business. Our experienced commercial roofers will conduct a full evaluation and provide you with a detailed report of your roof's condition.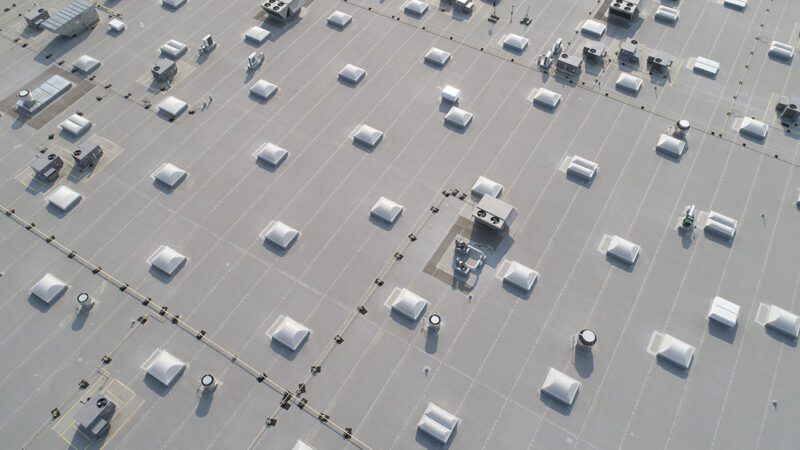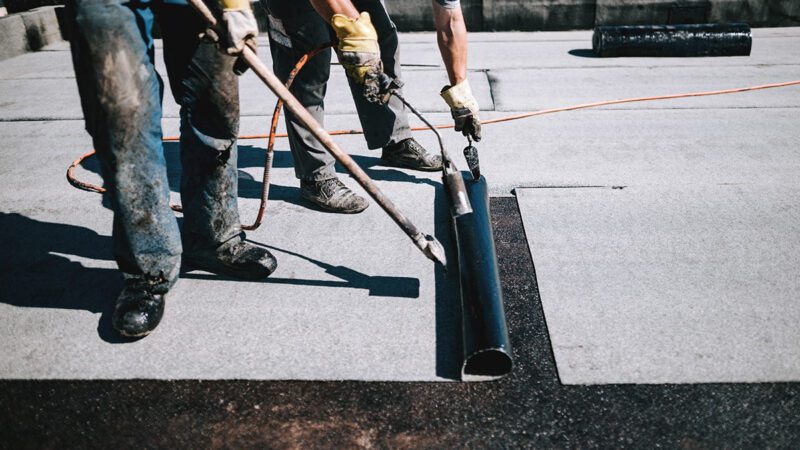 Trusted Wichita Commercial Roofers
Dingers Roofing & Construction is a reliable locally-owned Wichita commercial roofing company. We work on all roof types including metal roofing, flat roofs, TPO and more. Our services include commercial roof repair, roof replacements, and free roof inspections. We serve communities around Wichita including Newton, Andover, El Dorado, Mulvane, Cheney and more. When you need a professional commercial roofer in the Wichita area, call us at 316-202-2066.
Dingers did a great job for a fair price replacing the guttering on my 2 story building downtown. Easy to work with and great communication.
Metal Roofing Installation
Preserve your buildings and protect your valuable goods and products with commercial metal roofing. With a lifespan of 50 years or more, they easily combat harsh weather and environmental conditions. Metal roofs provide years of durability and worry-free maintenance for storage buildings, warehouses, production facilities and more.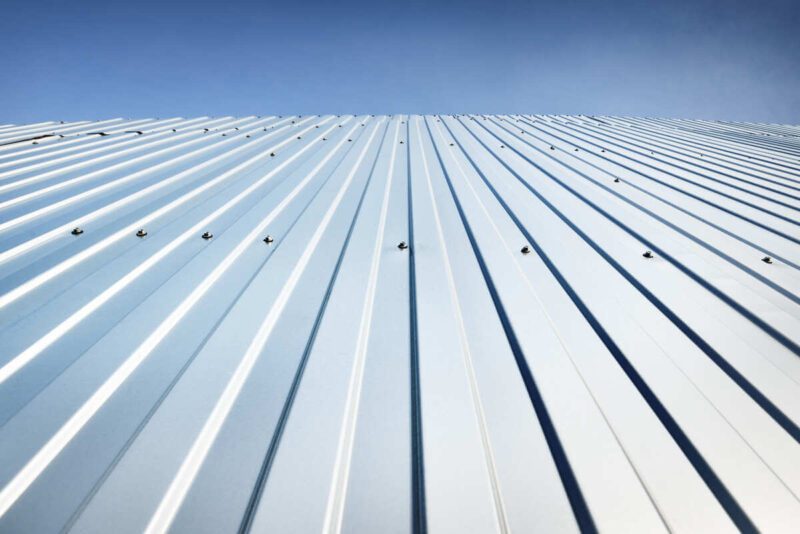 It's common for commercial buildings to have a flat roof or one with a slight slope. Dingers Roofing & Construction installs a range of popular commercial roofing systems for these properties.
Built-Up Roofing (BUR) Membrane
One of the oldest and most adaptable commercial roofing types is built-up roofing. It's a seamless roofing made from alternating layers of tar and gravel. It's relatively inexpensive and it's easy to repair, but the cost and lifespan will depend on how many layers are used. In general, it can last about 20 years or longer with regular maintenance. It resists UV rays and a heat-resistant coating can be added to improve energy efficiency. Built-up roofing usually withstands foot traffic but it doesn't adapt to shifting building foundations and roof leaks can be difficult to detect.
Thermoset EPDM Roof Membrane
Ethylene Propylene Diene Terpolymer (EPDM) is a rolled roofing membrane made from synthetic rubber. This durable material, also called Thermoset roofing, is long-lasting and  resists sunlight, pollution and solvents such as acids and alcohol. It's available in black or white rolls. The drawbacks are that it can be easily punctured and it doesn't look as nice as other commercial roofing options on the market.
Asphalt Shingles
Shingles can be used for commercial buildings as well as residential applications. Here in the Wichita area, duplexes, apartment buildings and other multifamily housing often have pitched roofs, which are ideal for asphalt shingle installation. They may have a shorter lifespan than other commercial roofing materials, but it's an affordable option for many builders and property managers.
Single-Ply Membrane Roofing
Flat commercial roofs often use single-ply membranes. This type of roofing material consists of one sheet of rubber or synthetic material. It can be mechanically fastened, chemically adhered, or ballasted to the roof.
TPO Roofing Systems
Thermoplastic Polyolefin (TPO) is one common type of single-ply membrane roofing. It's a popular choice because it reflects heat on hot days and absorbs heat on cold days. This helps improve energy efficiency, especially in large commercial facilities. It's an affordable commercial roofing solution that resists tears, rot and mold. Not only that, the flexible membrane also performs well when the building expands and contracts.
PVC Roofing Systems
Another popular type of single-ply membrane roofing is polyvinyl chloride (PVC), or plastic. It's made with less petroleum and oil than TPO while still keeping commercial buildings cool. This strong roofing material doesn't need adhesives or taped seams for installation; instead, the seams can be heat welded. PVC roofing protects commercial buildings from fire, UV rays, water leaks, chemicals, and sun discoloration.
How long does a commercial roof system last?
Commercial roofing systems can last anywhere between 10 and 40 years. The lifespan of a commercial roof depends on the type of roofing material used. A commercial metal roof has a life expectancy of 30-45 years, while TPO and EPDM roofing for flat roofs lasts 20-30 years.
How long will it take to install a new roof on my business?
On average, you can expect a new commercial roof installation to take between one and four weeks. Flat roofs are usually faster and easier to install than other types of commercial roofs. The time to replace the roof on your commercial property will depend on the condition of the roof and whether or not the old roofing material is being removed. When you get a quote for commercial roof replacement from Dingers Roofing & Construction, we'll provide you with a timeline when you can expect the job to be completed and an estimate of how long it will take.
How much will a new commercial roof cost?
The cost of commercial roof replacement varies widely. It depends on factors including the size of roof, the type of roofing material used, and whether tear-off is included. It's important to have a commercial roofer inspect your roof before providing a quote. That way, they can look for any roof leaks or damage that will need to be fixed as part of the roof replacement process so you can be sure you're getting a complete estimate.
Can my building be re-roofed without tearing off the old roof?
Depending on the roofing material, it is possible to do a commercial roof overlay instead of a tear-off roof replacement. This process is generally used for flat roofs and it involves adding a layer of either asphalt (asphalt overlay) or Polyurethane (PU overlay) on top of the existing roofing material. This can extend the roof's lifespan by improving waterproofing and, in the case of a PU overlay, UV protection.