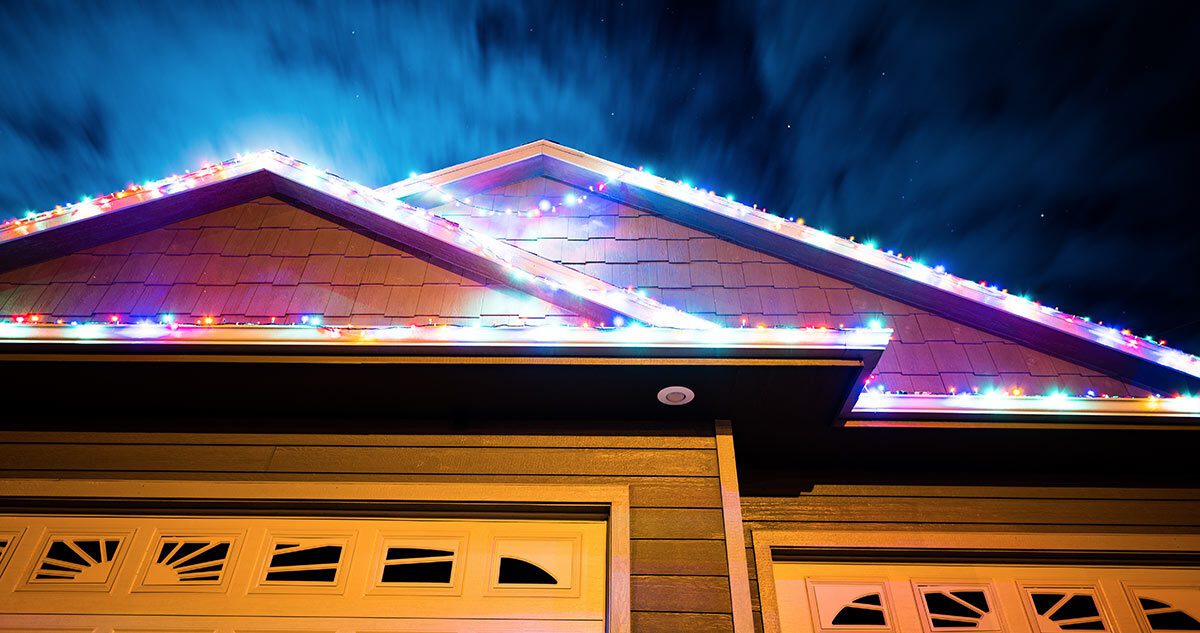 Even if you're not attempting to light up the neighborhood like Clark Griswold, hanging lights on your home can be hazardous. With the right equipment and a few precautions, you can hang Christmas lights without damaging your roof, siding, or yourself. If accidental damage does happen, be sure to contact Dingers Roofing & Construction right away to repair the roof, gutters or siding before the problem gets worse.
Safety First
According to the U.S. Consumer Product Safety Commission, most holiday decorating injuries are the result of falls. Keep yourself and your home safe by following these safety tips:
• Use a ladder to hang your holiday lights, rather than climbing on the roof.
• Wear shoes with soles made from rubber or other slip-resistant material.
• Either use the ladder on level ground or use levelers for the legs.
• Remember: metal ladders can conduct electricity from live wires in the lights.
• Maintain three points of contact with the ladder at all times.
Choose Lights Rated for Outdoor Use
Kansas homes can be subjected to snow, ice, wind, rain and hail during the winter months. To avoid electrical shocks and fires, so it's important to only use extension cords and Christmas lights certified for outdoor use on your home's exterior.
Plan Ahead
In addition to making sure you have a sturdy ladder that's long enough to allow you to safely reach the roof's edge, it's important to find your home's outdoor GFCI outlets. Newer homes may have one or more GFCI outlets located under the eaves to make hanging Christmas lights easy. If you live in an older home, the GFCI outlet may not be in such a convenient location. Measure the roof line to make sure you have enough lights and determine where you need to start to allow the cord to reach the outlet.
Don't Put Holes in the Roof
Nailing or stapling strings of Christmas lights to your roof shingles will create holes in the shingles. Water will get into these openings and cause the roof decking to rot and create leaks inside your home.
Use Plastic Clips to Hang Christmas Lights
There are a variety of plastic clips available that make hanging Christmas lights safe and easy. You can also buy outdoor lights with clips already attached. Gutter clips simply hang on the front of your home's gutters, while other clips can attach to brick walls. Make sure the lights are strung far enough apart that there won't be any dangling cords that can blow in the wind.