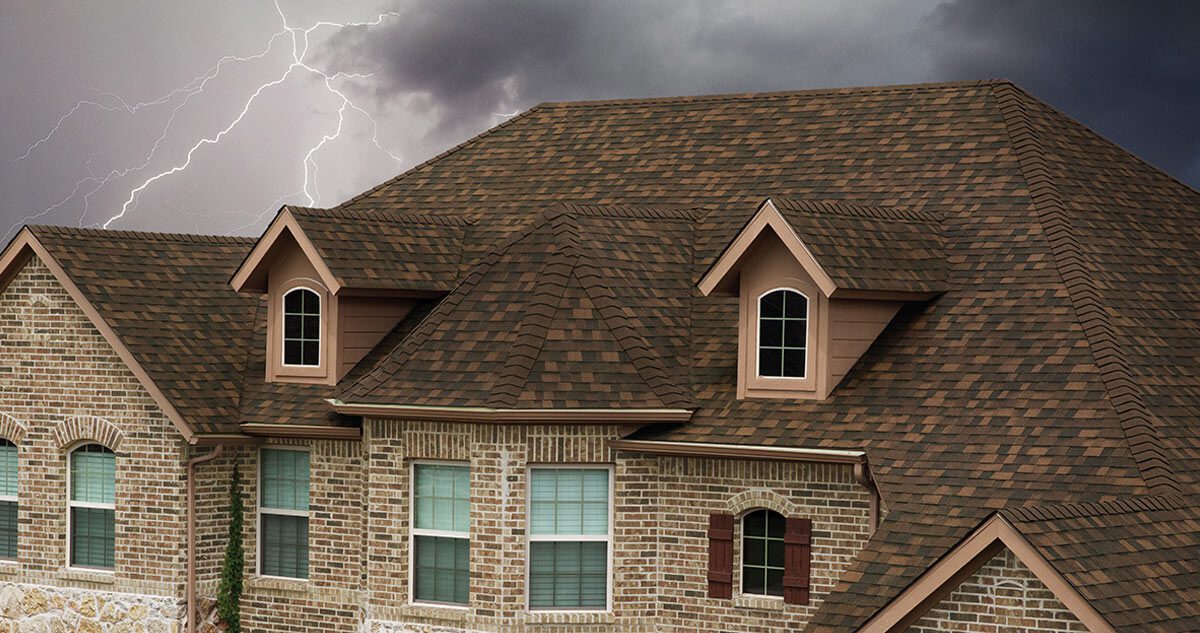 If you're considering investing in a new roof, a class 4 shingle may be your best bet. Here in south-central Kansas, our homes are frequently subjected to storms with high winds and hail that can damage a basic asphalt shingle. Upgrading to impact-resistant roofing shingles can provided longer-lasting protection, better performance, and potential homeowner's  insurance savings. Learn more below and discover the top 4 reasons to upgrade to class 4 shingles.
What is a Class 4 Shingle?
A shingle rated for class 4 impact resistance has been proven to resist damage from a 2-inch steel ball dropped on it several times from 20 feet above it. This test produces enough force to crack a 4-inch concrete paver in half.
Class 4 shingles, or impact-resistant shingles, are typically made with a polymer-based mesh embedded into the back of an asphalt shingle. This reinforces the shingle so it won't split when hit by a hailstone or storm debris. In some cases, a rubber-like polymer called styrene-butadiene-styrene (SBS) is added to the asphalt itself before being applied to the shingles. This method makes the shingle more flexible so it can better recover from a hailstone's impact.
How Is a Roofing Shingle's Impact Resistance Rating Determined?
After a series of disastrous hail storms struck the U.S. in the mid-1990s, the roofing industry developed a series of standardized tests to determine how well roofing shingles resist damage from the impact of hail stones.
This test is formally known as the Underwriters Laboratory 2218 (UL 2218) but commonly referred to as the "steel ball test". That's because during the impact resistance testing, a steel ball is dropped multiple times from a specific height onto a shingle and then the damage from the impact is measured.
Class 1 shingle test: 1-1/4″ steel ball dropped from 12 feet
Class 2 shingle test: 1-1/2″ steel ball dropped from 15 feet
Class 3 shingle test: 1-3/4″ steel ball dropped from 17 feet
Class 4 shingle test: 2″ steel ball dropped from 20 feet
Based on the strength of the shingle during each test, shingles are classified in one of four classifications: Class 1 (lowest rating), Class 2, Class 3 and Class 4 (highest rated shingles, resisting the most hail damage).
Why Do I Need Impact-Resistant Shingles?
If you live in an area like Kansas where extreme weather is a common occurrence, installing UL 2218 Class 4 roof shingles can be a smart investment. According to the Insurance Information Institute, Kansas ranked #4 in the U.S. for major hail events in 2022, meaning hailstones one inch in diameter or larger.
This type of storm damage costs billions of dollars in repairs every year. In fact, State Farm insurance company reported a $1 billion increase in costs from hail damage claims in 2022 compared to 2021. With 289 such hail events hitting our state during 2022 alone, we recommend that you consider upgrading to a class 4 shingle when planning a roof replacement for your home or business.
Are Class 4 Shingles Worth It?
As a local roofing company in Wichita, KS, we've seen the effect hail has on non-impact-resistant roofing materials. A roof with hail damage may need to be replaced early, and having a storm damage claim can raise your homeowner's insurance premiums. Impact-resistant roofing shingles, also referred to as IR or class 4 shingles, may cost more than standard shingles, but in our opinion their benefits far outweigh the upfront expense for Kansas homeowners.
Benefits of Upgrading to a Class 4 Shingle
1. Class 4 Shingles Protect Your Property Better
Currently, class 4 shingles are the highest-rated shingle on the market. Their resistance to large hail, wind and the elements can protect your property longer than non-impact-resistant roofing products.
2. Potential Insurance Savings
Many insurance companies will provide a discount on premiums to property owners who have a qualifying class 4 impact rated shingle installed on their home or business. Additionally, you may be spared from increased insurance rates as insurance companies try to recoup their costs from hail damage claims. Check with your insurance company directly to learn more about possible discounts for class 4 shingles.
3. Extent Your Roof's Lifespan
Class 4 shingles can be rated to within stand wind gusts up to 130mph (requires special installation). Most class 4 shingles are manufactured with a protectant to resist algae. For consumers who demand curb appeal, most shingles come in a variety of colors to complement the exterior of your property.
4. Better Warranty
An added benefit of most class 4 shingles is that they come with a limited lifetime warranty – some up to 50 years.
Contact Dingers Roofing & Construction for Class 4 Shingle Options
We're among the best roofers in Wichita providing quality craftsmanship, free roof inspections and excellent customer service. Contact Dingers Roofing & Construction today to learn more about upgrading to class 4 shingles on your roof installation.