If you live in Wichita or surrounding areas, you're familiar with storms that can produce hail from pea size to golf ball size. Unfortunately, this can lead to roof damage that can be difficult to detect until it's caused bigger issues. Dingers Roofing & Construction is a Wichita roofing company experienced in finding hail damage and then repairing or replacing the affected roof. Our work is backed by a 5-year workmanship warranty and we have more than two decades of experience with hail damage repair.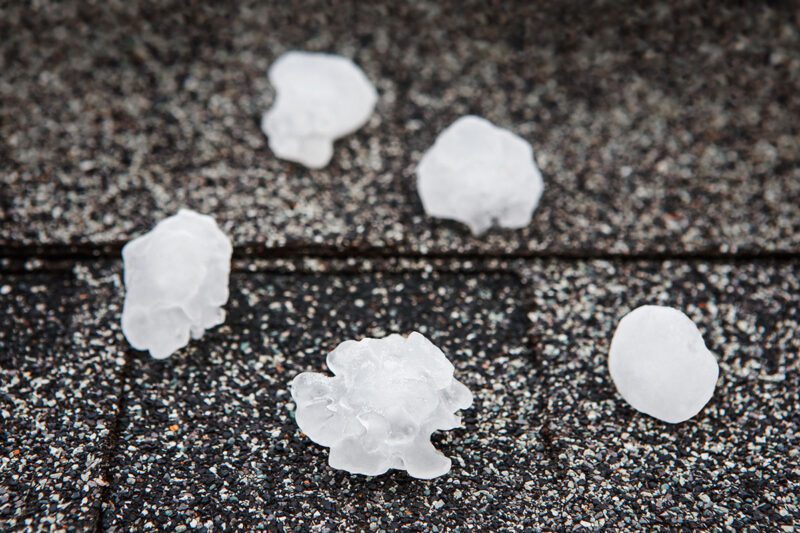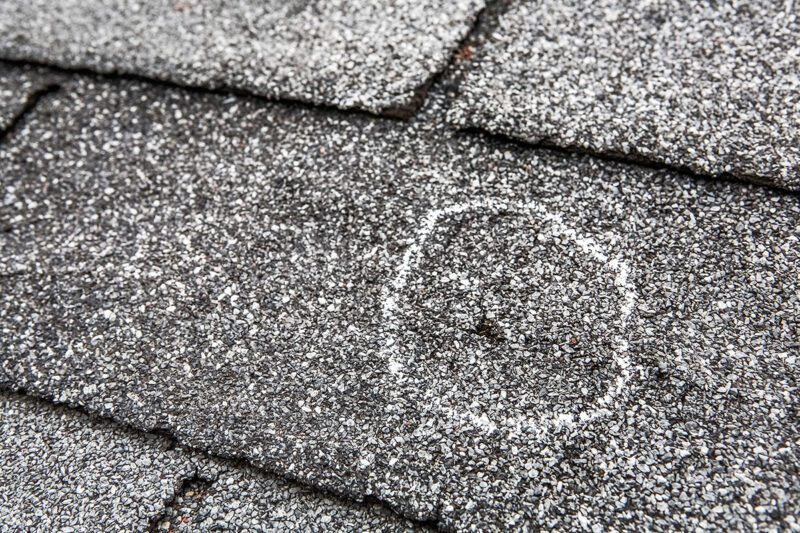 Signs of Roof Hail Damage
What happens when we get through a storm season without a roof inspection? It typically becomes an 'out of sight, out of mind' situation. Here are some of the common signs of roof hail damage you can be on the lookout for:
Dents, cracks, or punctures to asphalt shingles
Dislodged granules from asphalt shingles in the gutter or at the bottom of the downspout
More severe damage can cause entire sections of shingles to break away
On a metal roof, there can be dents, scratches, or chipped paint
Pictured: Hail damaged asphalt shingles with hail still piled up
Problems Caused by Roof Hail Damage
Problems caused by hail damage can show up both inside and outside a home. Aside from visible shingle damage on the roof, water can leak into a home through the dented or cracked shingles. This can cause water damage such as rot and mold that can compromise the structural integrity of your roof.
Inside, ceilings can show signs of leaking into the home. This can look like water spots or even mold. Water in walls can also get trapped or even pour through holes and electrical outlets becoming a hazard for those inside.
Expert Roof Hail Damage Repair in Wichita
So what can you do about roof hail damage? If you have recently experienced a severe storm, schedule a free roof inspection with Dingers Roofing & Construction. Our professional roofers will check for hail damage and provide a quote for roof hail damage repair or replacement.
Before filing an insurance claim, know that Dingers Roofing & Construction is your expert roof hail damage repair contractor in Wichita. We will work with your homeowner's insurance company and submit any required documents to get your residential roof repaired or replaced quickly.
Are you a business owner looking for roof repairs or roof replacement? We also provide commercial roofing services. Dingers Roofing & Construction is a trusted A+ rated and accredited roofing contractor with the BBB.
How big does hail need to be to cause damage to my roof?
Most commonly, hailstones about 1.5 inches and larger will cause significant roof damage. However, the amount of hail damage can vary not just from the size of hail but also due to the roofing material used. For example, metal roofing will be more durable against hail than standard asphalt shingles.
How do I know if my shingles got damaged by hail?
Roof hail damage is not usually obvious to the untrained eye. It takes an experienced professional climbing up on the roof to examine it for signs of hail damage. That's why we recommend getting a professional roof inspection to see if your roof needs hail damage repair.
Are hail damaged shingles covered by shingle warranties?
The short answer is no. Roofing warranties generally cover problems such as defective products and/or bad installations. Unless it can be specifically proven that storm damage was occasioned by a defective roof, then it usually is not covered. Some warranties will even state that the warranty becomes void in cases of hail damage.
Are there shingles that are considered hail poof?
While there are no fully hail-proof shingles, there are impact-resistant asphalt shingles with a UL 2218 class 4 rating that are recommended for hail-prone areas like Kansas. Class 4 shingles can be a great investment because they're highly resistant to damage from the impact of hailstones. Metal roofing and slate tile roofs can also be effective options against hail.