As you assess your property for damage after a big wind event, don't forget about your rooftop. High winds can be damaging to all types of roofing from asphalt shingles on homes to flat roofing on businesses. Before you call your homeowners insurance company, call Dingers Roofing & Construction. We'll evaluate your roof, siding, windows and gutters to check for wind damage. We're a top-rated roofing company in Wichita and we serve storm-damaged areas across Kansas. If wind damage is found, we'll provide you with a free quote for roof repair or replacement.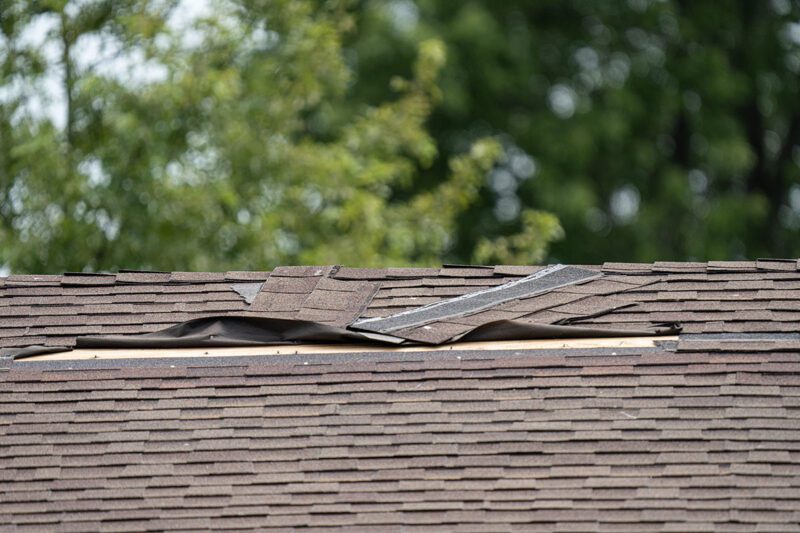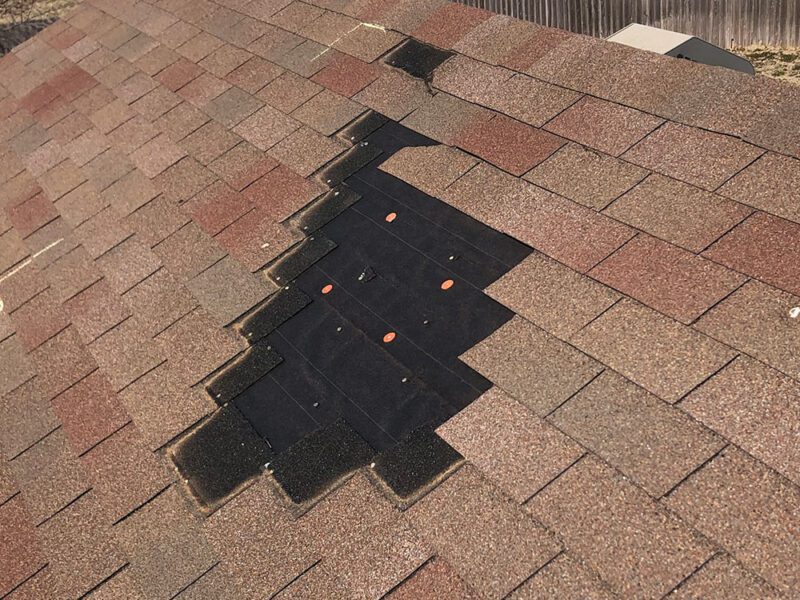 Signs of Roof Wind Damage
If there have been recent storms with high wind speeds, here are some signs of roof damage to look for:
Look at your neighbor's roof. If you can spot damages there, it's likely you may have damages of your own.
Look for parts of shingles or whole shingles in your yard or surrounding yards.
Look for damaged trees. If winds are strong enough to break tree limbs, they're strong enough to damage your roof.
Look for tree limbs on your roof and neighboring rooftops.
If your business has a flat roof and you can access it easily, check for cracks or tears in the roof's surface.
Check for water damage or leaks inside your home or business.
While you can look for some of these signs of wind damage to a roof yourself, request a free roof inspection from Dingers Roofing & Construction for an expert evaluation.
Pictured: Wind-damaged asphalt shingles.
Roof Problems Caused by Wind Damage
These strong winds can create a number of problems for residential and commercial roofs. Roof damage can happen when wind gusts reach 50 mph or higher. The stronger the winds become, the more that flying debris can impact a roof. Older roofs and those lower-quality roofing materials are more likely to be damaged by high wind.
Straight line winds can tear away shingles or cause tree branches to fall onto rooftops. Surface damages such as broken, cracked, or torn away shingles can create more serious problems such as water leaks inside a home or business. Moisture inside your roof or walls can lead to mold or mildew, compromise internal structural support, and even cause electrical problems.
When thinking about high winds, you might assume they're more likely during tornado season, which is spring through fall. But here in the Wichita area, high wind warnings are common even in the winter. And when snow and ice are involved, moisture can get trapped where wind damage has occurred.
When temperatures drop and the liquid freezes within gaps and cracks it expands, causing further damage. Then when the ice and snow melts, the water seeps into the damaged areas. This can create further problems down the road. Rest assured that, no matter the season, Dingers Roofing & Construction will provide expert roof wind damage repairs and replacement.
Expert Roof Wind Damage Repair in Wichita
Dingers Roofing & Construction is a trusted local roofing company in Wichita. We have more than 20 years of experience inspecting, repairing and replacing residential and commercial roofing systems. We have an A+ rating with the BBB and all of our work is backed by a 5-year workmanship warranty. We're an Owens Corning preferred contractor, and their roofing shingles carry a lifetime warranty.
Our thorough roof evaluation will check for missing granules and cracked, loose or missing shingles. We'll also identify damaged soffit or fascia. If roof wind damage is found, we'll provide you with a quote for roof replacement or repair. We also work directly with your insurance company to make it easier to file an insurance claim.
How fast can wind be before it causes damage to my roof?
On average, it usually takes 70-90 mph winds to create significant roof damage. However, even a 50 mph gust can be the starting point for wind damage to a roof. Roofing materials, roof pitch, and age can be a factor in what wind speeds can cause damage.
What is considered wind damage to a roof?
Shingles that loosen, break, or fall off, as well as objects such as branches, trees, and flying debris falling on a roof due to winds are all considered wind damage. Even downed poles and power lines from wind can damage a roof.
How much wind can a shingle roof handle?
Asphalt shingles have different classes that can handle more. More resistant shingles such as Class D can resist most uplift wind speeds of up to 90 mph. Class G can resist up to 120 mph speeds, while Class G can resist uplift speeds of up to 150 mph.