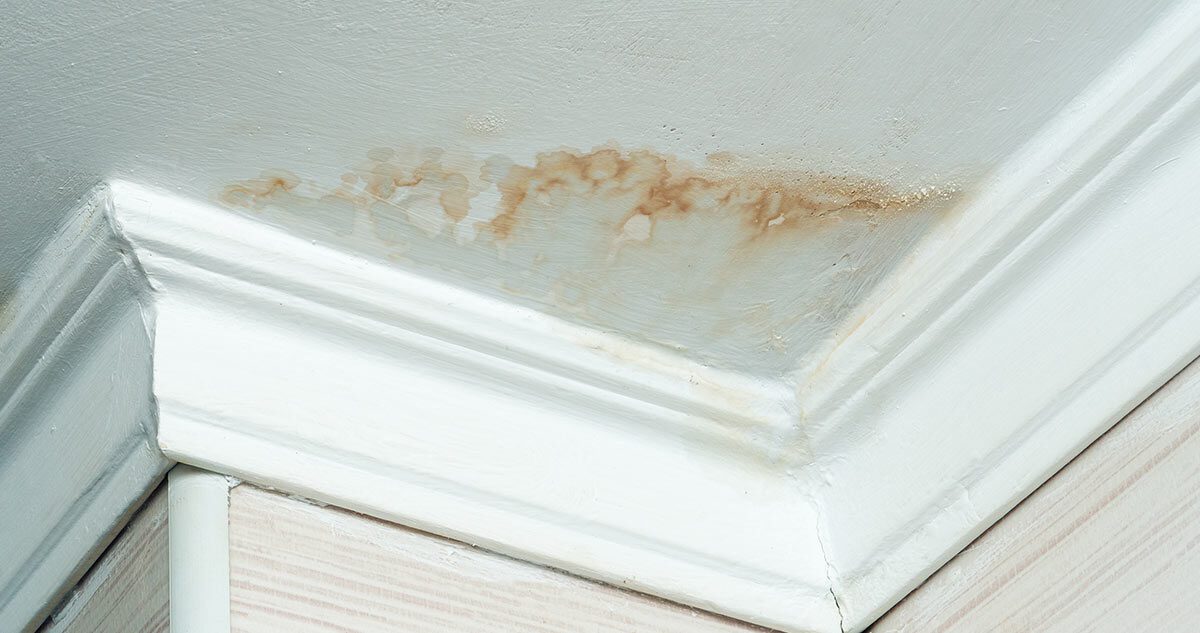 Wondering if you need a new roof? While many shingles these days are designed for durability, there are many factors that affect the life of your roof. Whether from an aging roof or recent storm damage, we highlight a few major clues indicating your roof might need replaced.
Discover the 6 signs below indicating you may need a roof replacement. Contact Dingers Roofing & Construction today for a free roof inspection if you are seeing the signs at your home or business.
1. Missing, Deteriorated or Cracked Shingles
When was the last time you did a visual inspection of your roof from the ground? Often times taking a quick look at your shingles from your yard can provide clues to the condition of your roof. Do you notice missing shingles? Do any shingles appear cracked or deteriorating? Are you able to see shingles that appear to be curling, or missing their asphalt? If you notice these types of issues, you may need a new roof.
2. Water Stains on Your Ceiling
One of the most common indications that you have a leaky roof is by seeing water stains on your ceiling inside your property. Broken or missing shingles can let water leaks enter your home or business. Leaking water would then collect between your roof and the ceiling inside your house. When moisture collects like this, it causes water stains to appear on your ceilings. This type of water damage is also known to make ceilings bubble or flake. If you notice water stains, water rings on your ceiling, or stains forming, contact us today for a free roof inspection.
3. Water Damage in Your Attic
If you're fortunate enough to have a crawl space or attic, a great way to check for leaks is with a quick visual inspection inside these areas. Using a flash light, look at the underside of the roof and inspect the attic rafters. Do you notice water stains or damage caused by the elements? Next, look at the walk way for signs of drips or leaks. If you notice water damage in your attic or crawl space, contact a professional roof inspector for an evaluation of your roofing.
4. Damaged Metal Flashing or Corroded Caulking
During your visual inspection of the roof, take a look at the galvanized or aluminum steel used to cover joins in the roof and wall coverings. This material is called flashing, and it's used to prevent water from seeping in and causing damage. Is the metal flashing corroded, weathered or missing all together? Another material to inspect, besides the flashing, is the caulking around vent pipes and roof vents. Does the caulking appear cracked, peeling or missing? If you notice any issues with these two areas, you might be experiencing leaks in your attic or water damage inside your home or business. Don't take a chance in this scenario, contact Dingers Roofing & Construction for a free roof inspection by a professional roof inspector.
5. Gutters and Downspouts Damaged or Clogged With Asphalt
Your gutters and downspouts are important pieces of your roofing system, carrying rain water safely from your roof, and disperses it away from your foundation. When gutters become clogged or damaged, rain water can build up and in some cases run back under your roof, and leak into your house or business. The same is true with downspouts. When severe weather hits Wichita, hail and debris can strike your shingles and remove the asphalt coating. The asphalt then collects in your gutters, and makes its way into downspouts. To see if you may have shingles that are missing their asphalt coating, inspect gutters and downspouts for large quantities of loose asphalt.
6. The Age of Your Roof
Most roofing systems are designed to last between 15 and 20 years. However, Mother Nature is quite good at lowering your roof's life expectancy. If you believe your roof is in pretty good condition, but you know it is roughly 15-20 years old (or older), contact us for a free roof inspection. We'll schedule a time to come to your home or business and provide a free roof inspection, and full evaluation of your current roofing system.
Request A Free Roof Inspection Today!
If you're still on the fence about a new roof, stop wondering and play it safe. Contact Dingers Roofing & Construction today to request a free roof inspection within Wichita and surrounding communities. We are professional roof inspectors with years of experience in the business. Check our rating with the BBB and read our customer testimonials about our quality of work.