Outdoor Living Spaces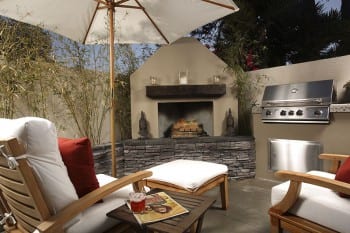 When it comes to improving your outdoor living space, Dingers Roofing & Construction transforms your backyard to perfectly fit your lifestyle and needs. We've created some of the best outdoor living spaces Wichita has seen. Enjoy the outdoors without leaving the modern conveniences of your home. From decks and pergolas to fire pits and outdoor kitchens, we can create an amazing outdoor living space for your home or commercial property.
Personalized Outdoor Living Spaces
When it comes to creating a beautiful outdoor living space for your home, we take your ideas and our expertise and combine them to create the best space for your needs. In addition to design and planning, we also handle all required permits and construction throughout the entire process.
Outdoor Kitchens – Love cooking outdoors? Let us take your grill to the next level with an outdoor kitchen. Whether you're a passionate foodie or just looking for more convenience around the grill, we can construct the best outdoor kitchen for you, your space and your budget. From brick pizza ovens and wood-fired grills to a full size outdoor bar, we'll transform your backyard into something fun and affordable.
Fire Pits & Outdoor Fireplaces – Fire pits are great for extending parties outdoors. Whether your entertaining family or friends, gathering everyone around the fire is a great way to have fun outdoors. For more substantial outdoor living spaces, an outdoor fireplace can bring warmth and cheer to family and friends.
Wood and Composite Decks – Extending your living space outdoors with a new patio deck is an affordable way to give you more square footage to entertain with. Decks are built with traditional wood or new composite materials which add life and durability to your deck for years to come.
Screened In Porches – Looking to add a layer of protection from the elements to your back patio? A screened porch or patio can protect you and your belongings from rain, snow and heavy sun, not to mention those pesky insects.
Pergolas – Add more shade to your patio with a permanent pergola or archway. Wood or composite pergolas add protection from the sun while still providing all the elements of being outdoors. Place a pergola over your grilling area, concrete patio, poolside furniture and more.
Stamped & Stained Concrete Patios – Concrete patios give additional outdoor living space for you and your family to enjoy for years and years to come. From simple slabs to sidewalks and steps, you'll love the durability and beauty of adding a concrete patio to your backyard. For additional beauty and visual appeal, we can stamp and stain your new concrete patio to make it really stand out.